U.S. Virgin Islands and Puerto Rico Brace for Severe Weather Due to Approaching AL90 Tropical Wave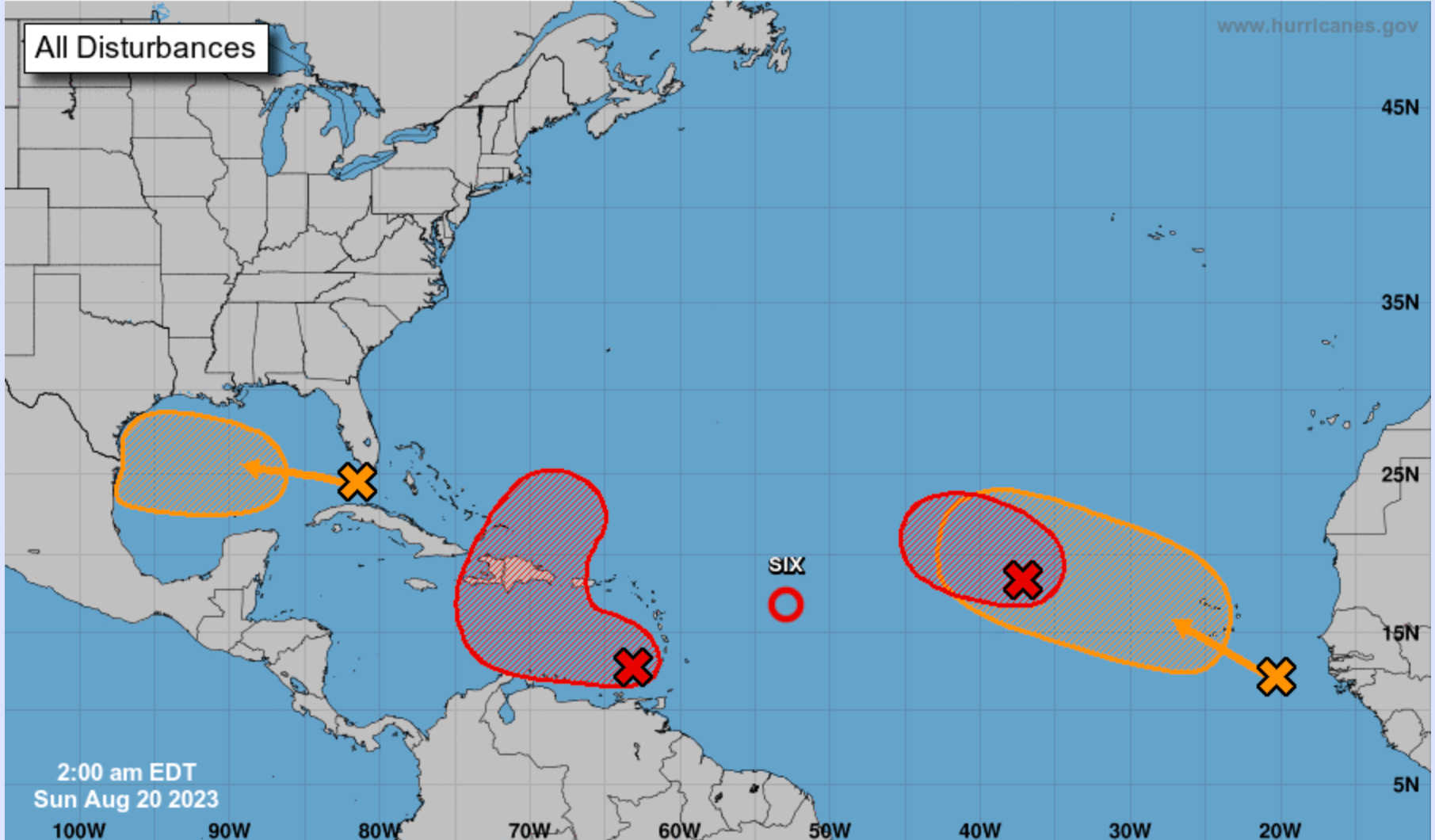 The San Juan branch of the National Weather Service has released a fresh advisory alert regarding imminent severe weather conditions targeting both the U.S. Virgin Islands and Puerto Rico. A combination of high pressure over the west central Atlantic and the incoming tropical wave AL90 is anticipated to drive a consistent moderate to strong northeastern wind flow throughout the day.
Rising Concerns Over Flash Floods and Landslides
From late tonight, cloud cover, showers, and storms tied to AL90 are forecasted to amplify, engulfing both Puerto Rico and the U.S. Virgin Islands. This change in weather is set to linger until mid-week. The predicted downpours intensify concerns over urban and stream flooding, including potential flash floods, landslides, and swift river level surges. Locals are advised to keep a vigilant eye on AL90's trajectory, as recent updates from Miami's National Hurricane Center suggest a moderate to high likelihood of its development in the coming 2-7 days.
Immediate Forecast: Transition from Mild Showers to Intense Rains
Earlier in the day, brief showers graced regions of Puerto Rico and St. Croix, causing little to no disturbance. Today's atmospheric conditions, characterized by winds reaching speeds of 20 mph and gusts touching 25 mph, are believed to be the calmest in the forthcoming days. As the day progresses, intermittent showers are foreseen, potentially intensifying during the afternoon, especially over the southwestern parts of Puerto Rico. Nevertheless, AL90's looming presence is set to make conditions more turbulent overnight.
Week's Forecast: Brace for Heavy Downpours
With the encroaching AL90, significant rainfall is on the horizon for the eastern regions starting Monday, escalating in severity as nighttime approaches. Residents are alerted to potential hazards such as flash floods, landslides, gusty winds, and frequent lightning strikes. Consequently, a moderate flood risk alert has been declared for the U.S. Virgin Islands, Culebra, Vieques, and the eastern, southern, and southeastern sections of Puerto Rico.
Long-range Forecast: Persistent Weather Challenges
Model predictions show some discrepancies regarding the extended forecast. However, a prevailing consensus points toward a moist and volatile atmosphere enveloping the region up until at least Thursday. This implies sustained risks for showers and storms over the islands and neighboring waters. Come the weekend, a shift is expected as the weather morphs into a more familiar summertime pattern – characterized by heat, humidity, and diminished rain and storm prospects.
Mariners' Advisory
Mariners are advised to exercise caution. The sea is expected to present challenging conditions for small vessels, with swelling seas reaching heights of up to 7 feet and winds ranging between 25-30 knots. A Small Craft Advisory will remain in place until at least Tuesday evening, emphasizing the need for heightened vigilance.
Prolonged Heatwave Raises Health Concerns for Both Humans and Marine Ecosystems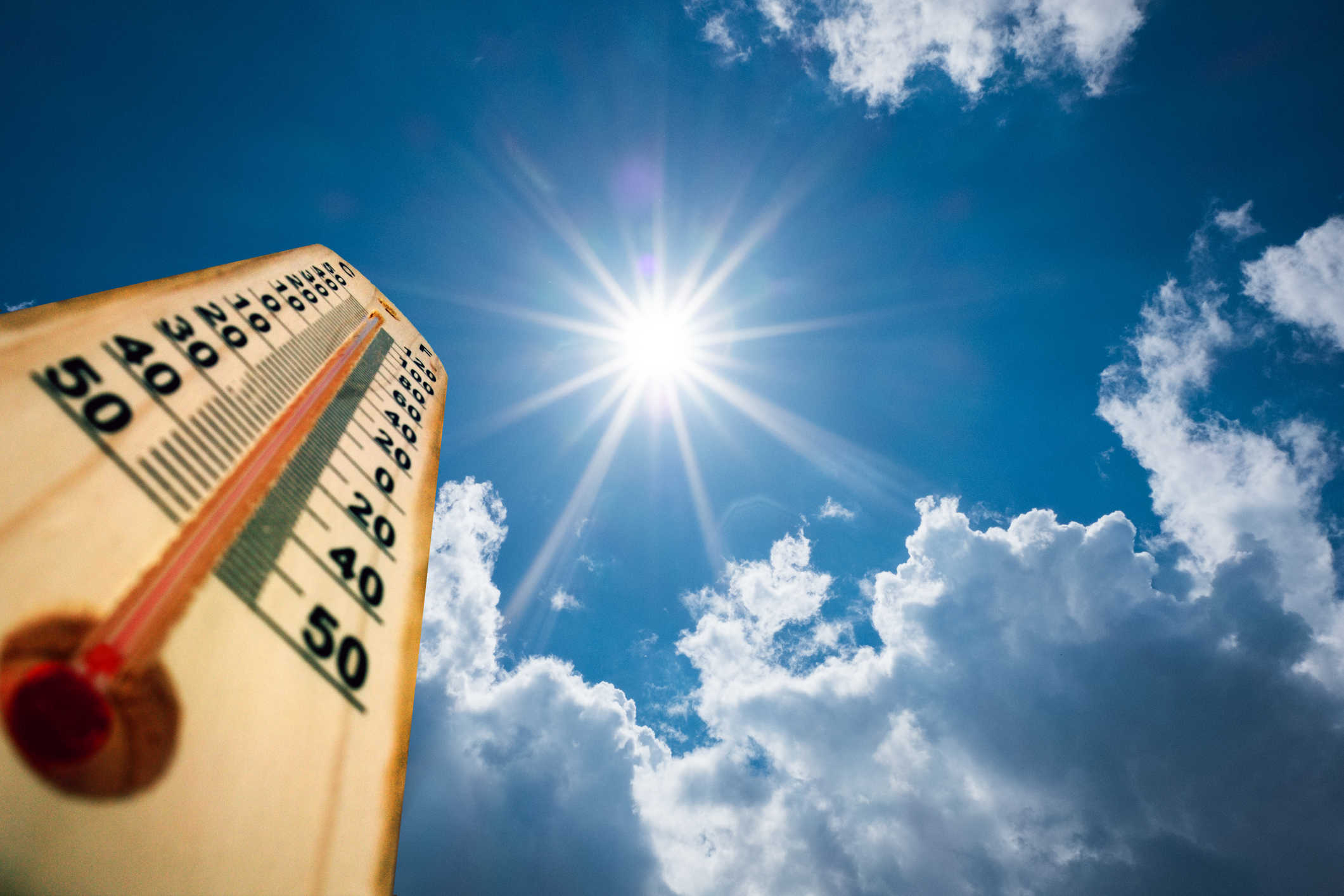 The VI Territorial Emergency Management Agency (VITEMA) has sounded the alarm about persistent elevated temperatures expected to dominate the region till October. Such sweltering conditions can trigger heat-related health complications, like heat exhaustion and heat strokes, for the territory's residents.
Recent data shared by VITEMA's Executive Director, Daryl Jaschen, during a Government House Press Briefing, revealed that St. Croix has shattered daily temperature records consecutively over the past twelve days. The gravity of the situation is further underscored by a heat advisory from the National Weather Service in Puerto Rico. As per Jaschen, this advisory is indicative of "an impending period of intensified heat, wherein the synergy of extreme temperatures and heightened humidity could result in potential heat ailments."
To combat these adverse conditions, the public is being urged to ramp up fluid intake and, when feasible, find solace in air-conditioned environments. Moreover, residents are counseled to minimize direct exposure to the sun and to make periodic rest intervals a routine, especially for those whose jobs demand outdoor presence.
Jaschen emphasizes the need for vigilance among supervisors, referencing guidelines set by the Occupational Safety and Health Administration (OSHA) to mitigate the risk of heat-induced illnesses for outdoor workers. "For anyone overseeing staff, it's crucial to safeguard their well-being," asserted Jaschen.
Furthermore, engaging in physically demanding tasks is best reserved for cooler periods, such as dawn or dusk. Jaschen also suggests that donning attire that's light-hued and not constricting can offer some relief.
The Caribbean Climate Outlook Forum's (CariCOF) Heat Prognosis for September 2023 to February 2024 identifies August and September as the peak heat months, with September slated to be exceptionally harsh. These scorching temperatures aren't just perilous for humans but have drastic implications for marine life too. The Caribbean Sea and Northern Atlantic have recorded unprecedented sea surface temperatures, instigating heat-induced distress to coral reefs throughout the Caribbean. This has precipitated a surge in coral bleaching, a phenomenon that jeopardizes the reefs. Notably, these reefs play a pivotal role in shielding several islands from the brunt of hurricane-induced sea surges and other challenging marine scenarios.
Derek Manzello, the Coral Reef Watch Coordinator for the National Oceanic and Atmospheric Administration (NOAA), offers some insight into the matter. He indicates that while corals have the capacity for recovery post mild bleaching events, protracted or intense heat distress elevates their mortality risk. Moreover, even those corals that manage to recover display diminished growth and reproductive capacities, with heightened susceptibility to diseases for up to four years post-recovery.
To summarize, the intense heat poses significant health threats, both to humans and marine organisms, with the hope of relief only in sight by next month.
Heavy Rainfall Forecast for USVI and Puerto Rico: NWS Issues Urgent Advisory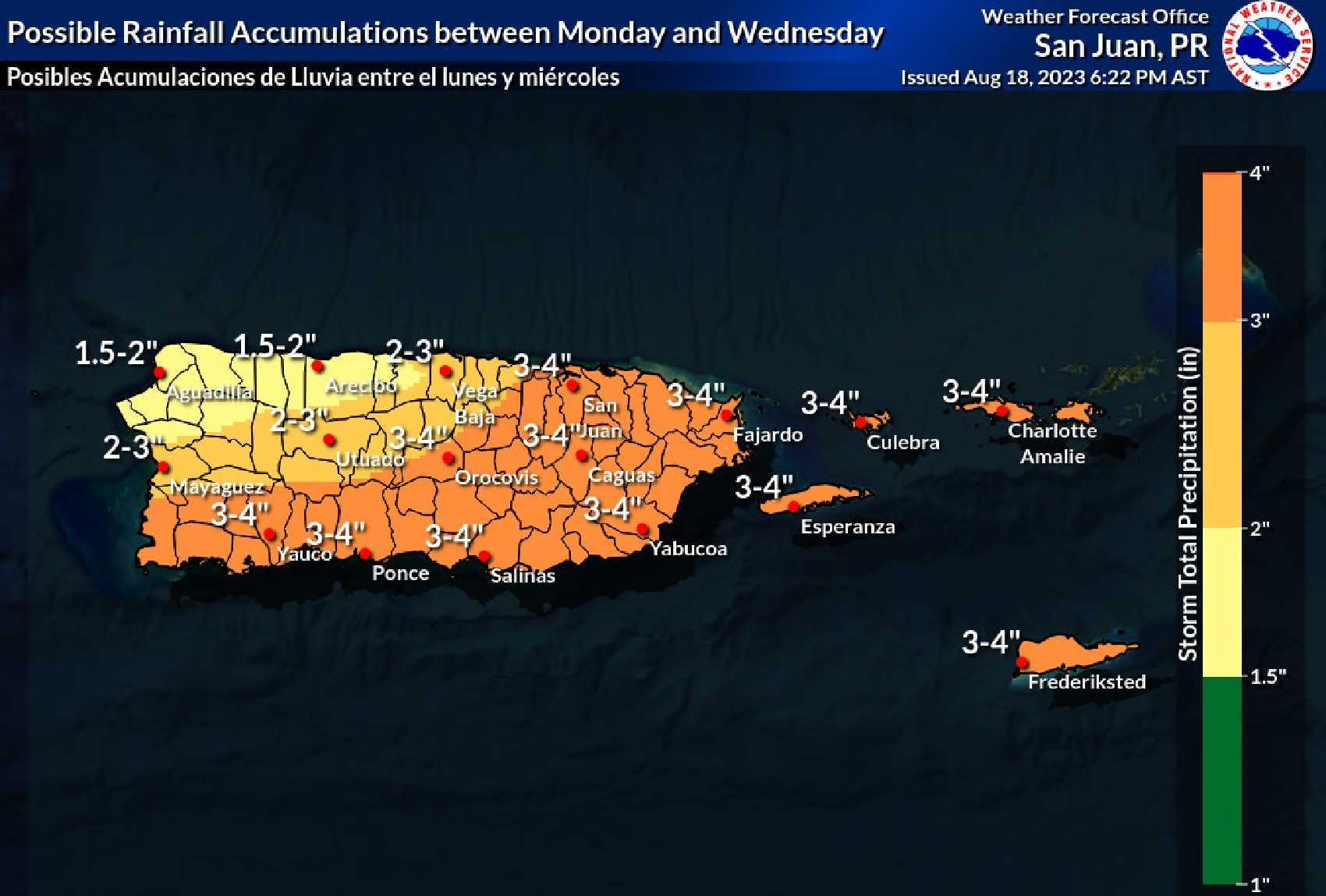 The National Weather Service (NWS) situated in Puerto Rico has sounded the alarm for potential inclement weather patterns targeting the region early next week. Both locals and visitors in the US Virgin Islands (USVI) and Puerto Rico are being alerted to brace for what appears to be an impending deluge.
According to the most recent insights from the National Hurricane Center coupled with the predictive analytics of the NWS, a series of thunderstorms accompanied by significant rainfall are on the horizon. The root cause of this imminent weather disturbance can be traced back to a powerful tropical wave, set to make its mark on the region between the start of the week and midweek.
St. Croix seems to be the prime focal point of this looming weather disturbance. Based on the projections from the NWS, the island could be drenched in approximately 3 to 4 inches of rainfall. It's noteworthy to mention that the island's western flank may be at the receiving end of even more aggressive rainfall. But it's not just St. Croix; both St. Thomas and St. John are flagged for a potential downpour, hinting at a moisture-laden commencement to the week for the whole of USVI.
In its advisory, the NWS has placed an emphasis on the significance of staying informed. Their statement underscores the potential volatility of the situation, "Anticipate a period of unsettled weather with possible thunderstorms and heightened rainfall activity spanning from Monday to Wednesday. We cannot stress enough the importance of keeping an eye on regular weather bulletins throughout the weekend."
As the clouds gather and the region readies itself for the impending showers, it's paramount for everyone—residents and tourists alike—to stay vigilant. Regularly checking weather updates, prepping for any adverse conditions, and taking steps to safeguard personal and communal properties is the need of the hour. The key takeaway is to stay informed, stay prepared, and above all, stay safe.