Historic Committee Decides: 'I Love STT' Sign Not Suitable for Vendors Plaza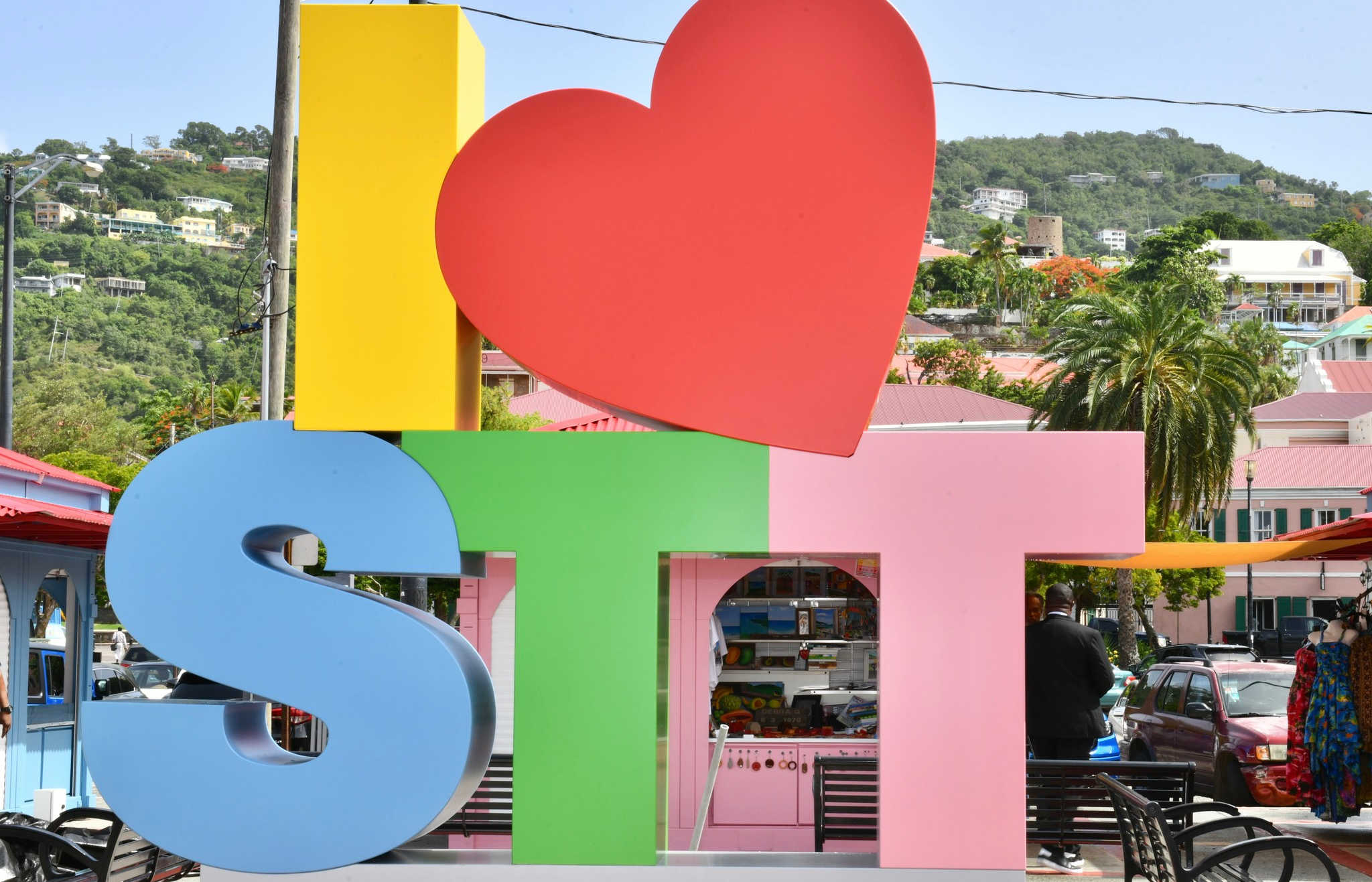 ST. THOMAS – Recent deliberations by the St. Thomas Historical Preservation Committee (HPC) culminated in a decision against the retention of the "I Love STT" metal installation at the prominent Vendors Plaza.
Introduced as part of an overarching plan to invigorate the plaza by Vincent Richards, the Deputy Commissioner of the Dept. of Property and Procurement, the sculpture was touted to echo similar design ethos seen across various Caribbean islands, ranging from Cuba to Barbados.
However, skepticism arose during the discussions led by the HPC's Committee Chair, Akil Petersen. He pressed on the positioning of analogous sculptures in historical zones in countries like Puerto Rico and Cuba. While they were indeed situated in such areas, Petersen remained wary about the emblem's appropriateness at Vendors Plaza. His contention was grounded in the idea that visitors gravitate towards the plaza to revel in its intrinsic beauty rather than to interact with modern signs. For Petersen, other sites such as Yacht Haven, Magens Bay, or Lindbergh Bay seemed to be more fitting locales for the installation than the iconic Charlotte Amalie historic precinct.
While Enrique Rodriguez, a fellow committee member, refrained from passing judgment on the artistic value of the sculpture, he expressed notable apprehensions about the HPC's exclusion from initial discussions. "Future undertakings should certainly involve the HPC from the onset," Rodriguez stressed, emphasizing the committee's pivotal role.
Echoing Rodriguez's sentiments, Sean Krigger, who helms the VI State Historical Preservation Office, accentuated the HPC's central role. For him, any amendments to the storied district necessitate a thorough review by the committee. He reminisced about earlier proposals targeting Vendors Plaza that had a more historical resonance, such as the idea of introducing an antique anchor.
On a slightly divergent note, David Knight Sr., another voice in the committee, addressed the need for consistency. Drawing parallels to a Cruz Bay sign which had met with unanimous disapproval from the HPC, Knight pondered the committee's wavering stance. He denounced the sculpture as mere "advertising flair" and argued that Vendors Plaza's historical milieu wasn't the right setting for it. He was firm in his stance, stating, "Its relocation is imperative."
After extensive discussions, the committee's vote centered on application HPC-40-2023, a comprehensive proposal encompassing an array of enhancements for the plaza, such as innovative sunshades for vendor stalls and a structured strategy for food truck positioning. Barring the contentious "I Love STT" piece, the other proposed additions secured approval from three committee members, while two were in dissent. The overarching consensus was clear: the sculpture needed a new home.