Esteemed Chef Tiffany Derry to Star in St. Croix Foundation's 'Wine in the Warehouse' Event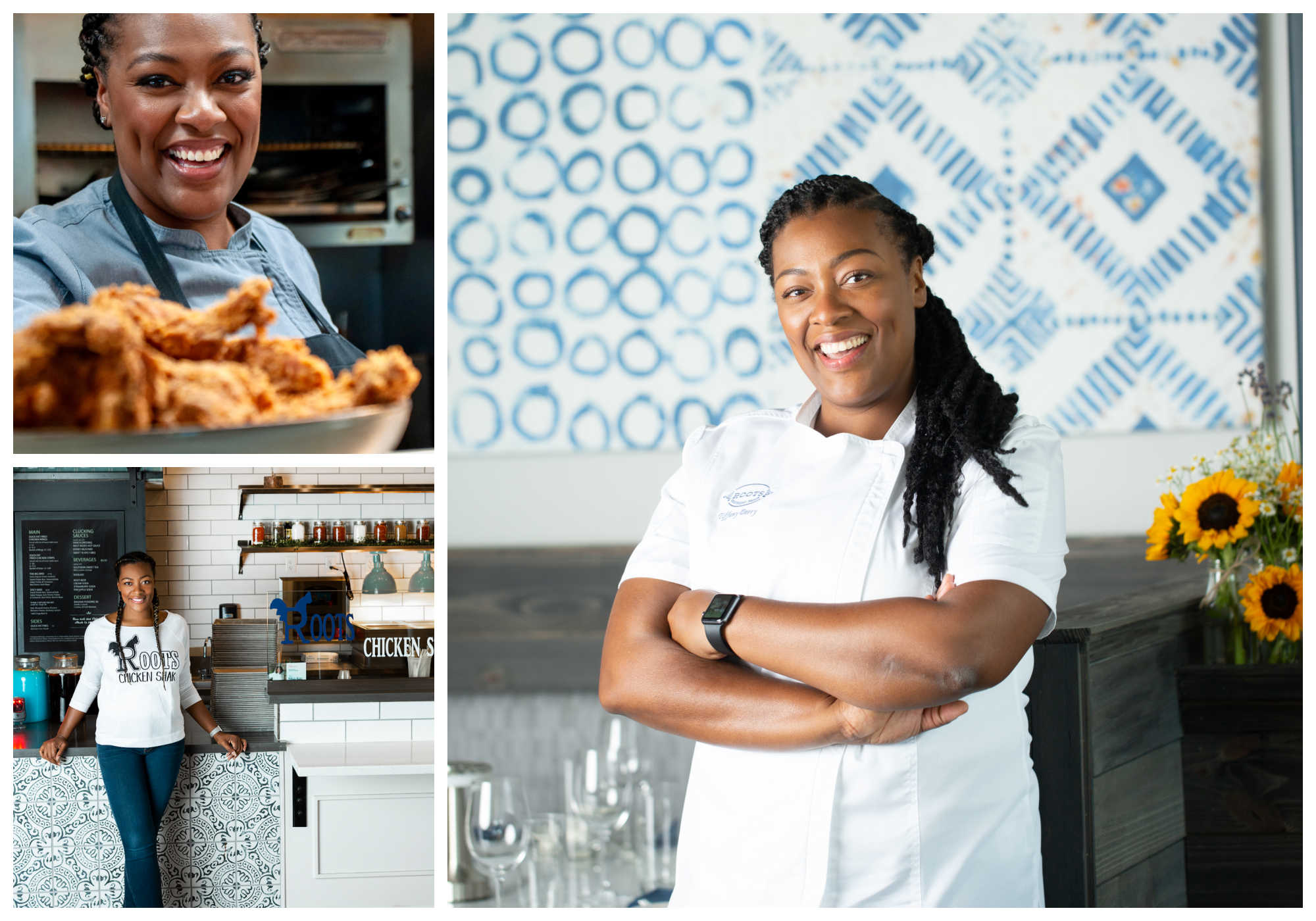 The St. Croix Foundation extends a warm invitation to culinary enthusiasts as Tiffany Derry, celebrated for her stellar performances on Top Chef, revisits the region to grace the annual 'Wine in the Warehouse' event as its star chef.
Initially captivating audiences in the seventh season of Bravo's acclaimed Top Chef, Derry quickly ascended as a fan-favorite, clinching a spot in the top four contenders. Her culinary journey didn't end there; she further showcased her prowess in Top Chef: All-Stars, and made remarkable appearances in other televised cooking face-offs like Chopped, and Beat Bobby Flay among others.
Beyond the screen, Derry is a seasoned restaurateur managing two esteemed eateries: Roots Chicken Shack and Roots Southern Table. The latter notably clinched a nomination as a 2022 James Beard Award Finalist for Best New Restaurant, underscoring its eminent standing in the gastronomic realm.
The return of such an illustrious chef and entrepreneur to St. Croix is a source of immense enthusiasm, remarked St. Croix Foundation President Deanna James. "Tiffany Derry isn't just a remarkable chef, but a staunch advocate for social justice, equity, and food accessibility," James expressed.
Further applauding Derry's commitment to honoring her heritage and fostering community bonds through her culinary ventures, James hailed her as an "inspirational ally" for the Foundation's endeavors.
Come December 8, the ambiance within the Bohlke International Aviation hangar will morph, as usual, into a haven for gourmands and wine aficionados. This signature soiree by the Foundation aims to meld community spirit with philanthropy, promising an unparalleled gastronomic voyage.
Prospective attendees are urged to secure their tickets promptly via www.stxfoodandwine.com. For inquiries regarding tickets, upcoming events, or sponsorship, individuals can reach out to the Foundation's office at (340) 773-9898.
Celebrated Chef Imparts Culinary Wisdom at St. Croix's Prestigious Resort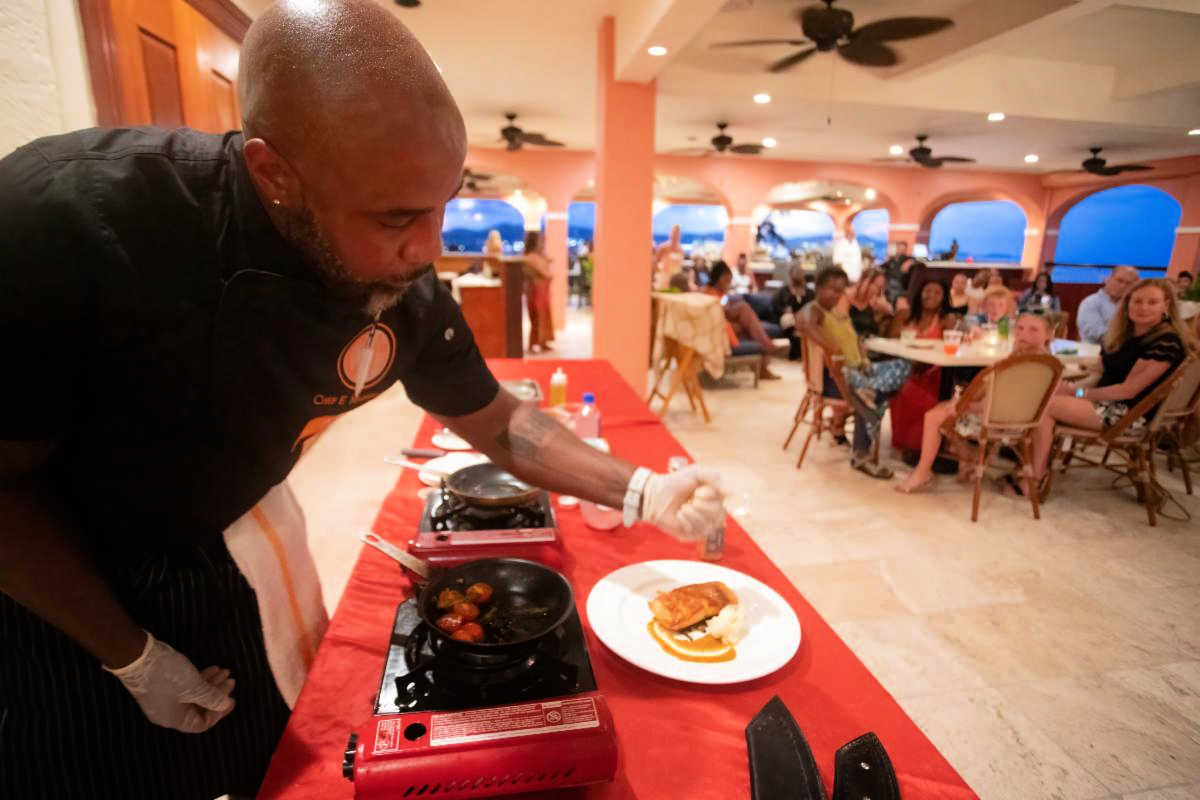 The Buccaneer Beach & Golf Resort's esteemed Terrace restaurant recently welcomed Eric Marshall, the distinguished victor of Food Network's renowned culinary contest "Chopped" during its 49th season in 2021.
Now a notable Food Network Brand Ambassador and Celebrity Chef, Marshall delighted Terrace's patrons with an exclusive culinary presentation, accentuating the Caribbean's effervescent flavors.
Utilizing his signature Slapp'n seasoning, Marshall enhanced a pan-seared wild salmon dish accompanied by a roasted vegetable coconut sauce. This gourmet entrée was harmoniously paired with garlic truffle mashed potatoes, lightly sautéed asparagus, and a medley of cherry tomatoes adorned with crispy potato skins.
Throughout the demonstration, the accomplished chef shared his culinary acumen, showcased diverse cooking methodologies, and unveiled the inspirations behind his exquisite creations. A subsequent dialogue enlightened attendees on the international and Caribbean culinary landscapes, along with Marshall's multifaceted journey encompassing his roles as an actor, entrepreneur, and celebrated chef.
The Terrace's guests voiced their enthusiasm in meeting the self-taught culinary maestro, whose illustrious career includes tenures as the catering executive chef for Tyler Perry Studios and as the personal chef to the royal Ambassador of Saudi Arabia to the United States. Marshall's esteemed visit to St. Croix echoes the allure the island holds for luminaries, drawn by its picturesque scenery and rich culinary heritage.