Lesser Antilles on Alert as Tropical Storm Tammy Approaches: Safety Measures and Advisories in Place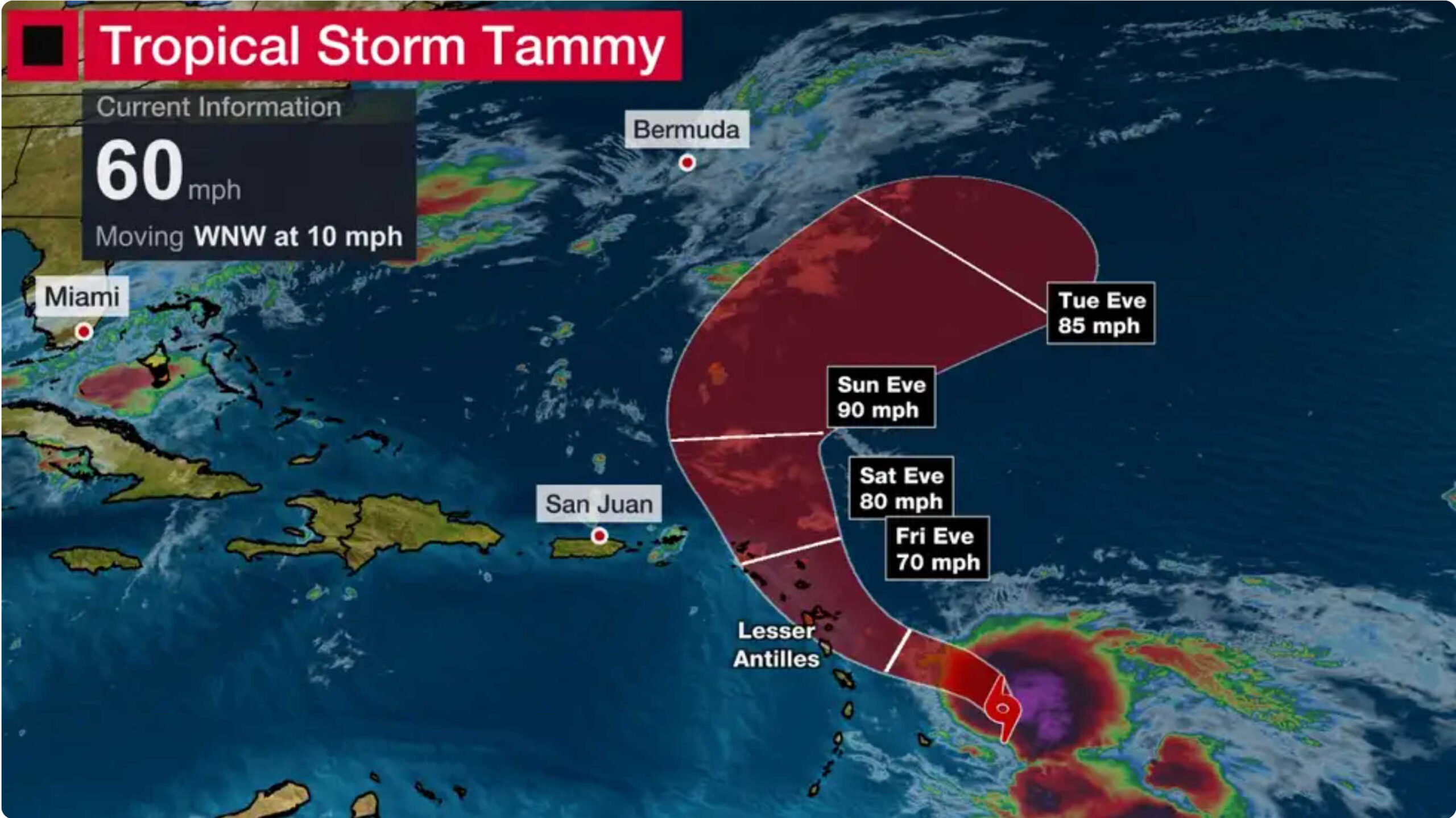 In a recent update on Friday at 2:00 a.m., the National Hurricane Center disclosed that the Air Force Reserve Hurricane Hunters are in the process of examining Tropical Storm Tammy, which is nearing the Lesser Antilles. The inhabitants and visitors of these areas are encouraged to prepare for the tropical storm conditions and significant rainfall anticipated to start later today.
Latest Developments:
Location: Tammy is presently situated around 110 miles east-northeast of Barbados and 210 miles east-southeast of Martinique.
Winds: The storm boasts maximum sustained winds clocking at 60 mph, with the possibility of stronger gusts.
Movement: Moving at a pace of 10 mph in a west-northwest direction, a subtle change towards the northwest is forecasted for later today, extending into Saturday. A more northerly course is projected either by Saturday night or Sunday.
Pressure: Data from dropsondes has pinpointed a central pressure of 1002 mb (29.59 inches).
Advisories & Alerts:
Hurricane Watch: Issued for Guadeloupe, Antigua and Barbuda, Montserrat, St. Kitts and Nevis, Anguilla, St. Maarten, St. Martin, and St. Barthelemy.
Tropical Storm Warning: Active for Dominica, Guadeloupe, Antigua and Barbuda, Montserrat, St. Kitts and Nevis, Anguilla, St. Maarten, St. Martin, and St. Barthelemy.
Tropical Storm Watch: Encompasses Barbados, Martinique, Saba, and St. Eustatius.
A "Hurricane Watch" denotes a potential for hurricane conditions within the designated zones, typically announced 48 hours ahead. A "Tropical Storm Warning" implies an expectation of tropical storm conditions within the next 36 hours, while a "Tropical Storm Watch" suggests a potential for these conditions within 48 hours.
Potential Risks:
Wind: Regions under the tropical storm warning are likely to experience tropical storm conditions starting today. Certain areas of the Leeward Islands could encounter potential hurricane conditions tonight extending into Saturday.
Precipitation: It's anticipated that the Leeward Islands could see rainfall totals between 4 to 8 inches, with isolated areas receiving up to 12 inches. The Northern Windward Islands might get 2 to 4 inches of rain, with some spots seeing a maximum of 6 inches. The British and U.S. Virgin Islands along with eastern Puerto Rico may receive 1 to 2 inches, with isolated areas possibly getting up to 4 inches. The substantial rainfall may trigger localized flash and urban flooding, with a chance of isolated mudslides in higher terrain regions.
Storm Surge: Tammy's arrival could elevate water levels by 1 to 3 feet above normal tide levels in areas where its center crosses the Leeward Islands.
Surf: Over the coming days, the storm-generated swells are expected to affect parts of the Lesser Antilles, potentially resulting in hazardous surf and rip current conditions.
Residents and visitors in the impacted areas are urged to keep abreast of updates from local weather authorities and adhere to necessary safety measures.
Upcoming Hazardous Weather in USVI and Puerto Rico: High Waves, Strong Rains Forecasted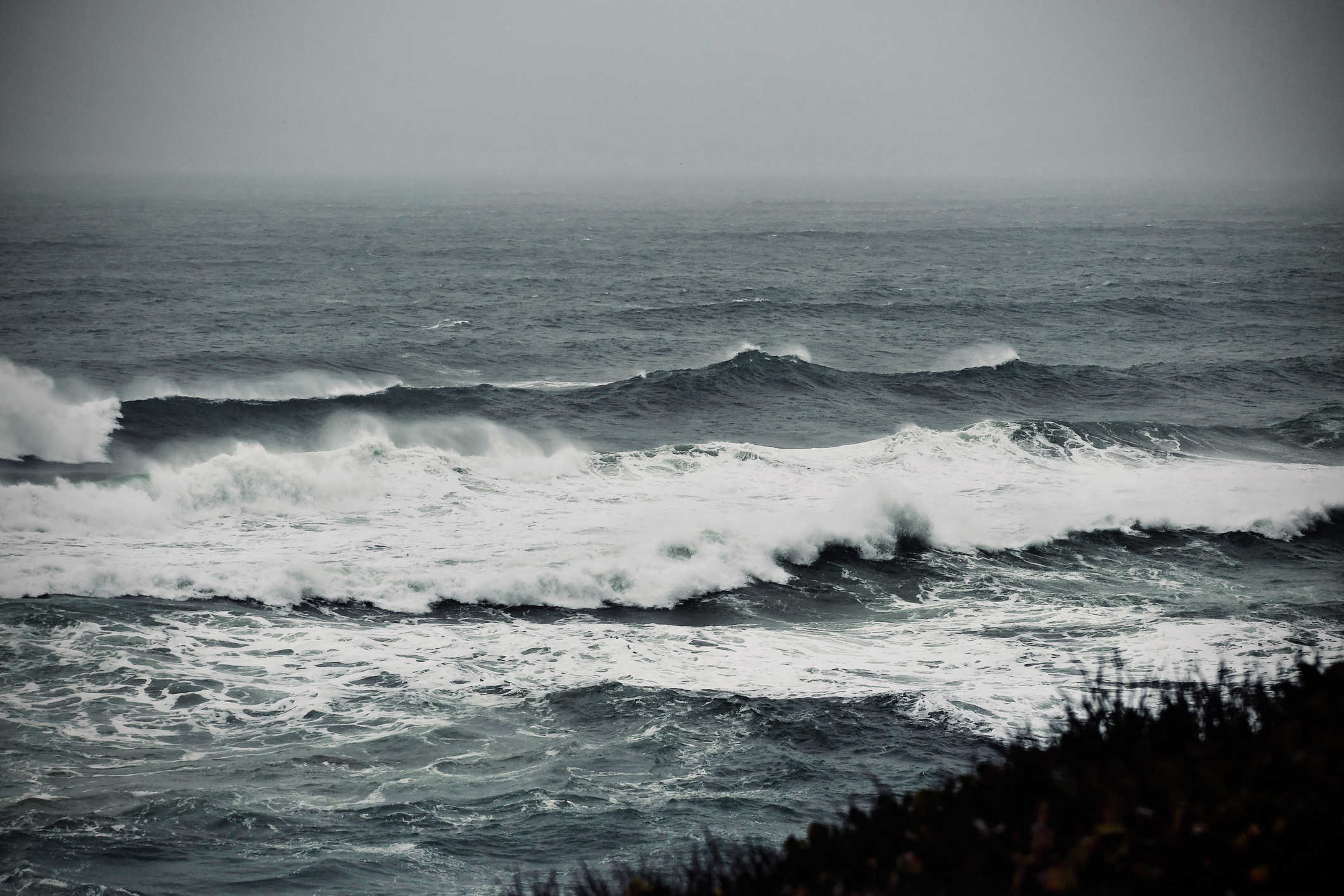 Residents and visitors in the U.S. Virgin Islands (USVI) and Puerto Rico should brace for challenging weather conditions over the next several days. Forecasters are predicting a mix of high waves and strong winds, leading to potentially dangerous marine environments. This period of harsh weather is expected to persist through the weekend and into early next week, with a significant uptick in showers and thunderstorms.
Essential Weather Advisory Highlights:
Maritime Safety Alert: From Thursday to Sunday, the sea is forecasted to be particularly rough, with waves expected to surge between 7 to 10 feet. Mariners are advised to navigate these waters with extreme caution during this period.
Rip Currents and Beach Safety: The danger of lethal rip currents will notably increase from Thursday evening, peaking through Monday. This risk is especially pronounced on the northern and eastern shores of the islands. Additionally, high surf conditions may lead to waves surpassing 10 feet from Friday evening, posing risks of minor beach erosion and localized flooding along coastlines.
Rainfall Predictions: The peak of the rainfall is anticipated on Sunday and Monday. Areas likely to be most affected include southern, southeastern, and eastern Puerto Rico, along with Vieques, Culebra, and the USVI. Rainfall in these regions could total 2-4 inches, while other areas might see 1-2 inches.
Thunderstorm and Lightning Alert: The forecast also includes isolated to scattered thunderstorms, which could bring frequent lightning strikes.
Local authorities are urging people in these regions to stay vigilant and prepare for these conditions. It's important to note that weather forecasts can change, and updates will be provided as new data becomes available. The heightened risk of flooding and mudslides, particularly in Puerto Rico and the USVI, is a pressing concern, and residents are encouraged to heed safety advice from local officials.
USVI and Puerto Rico Brace for Heavy Rains and Rough Seas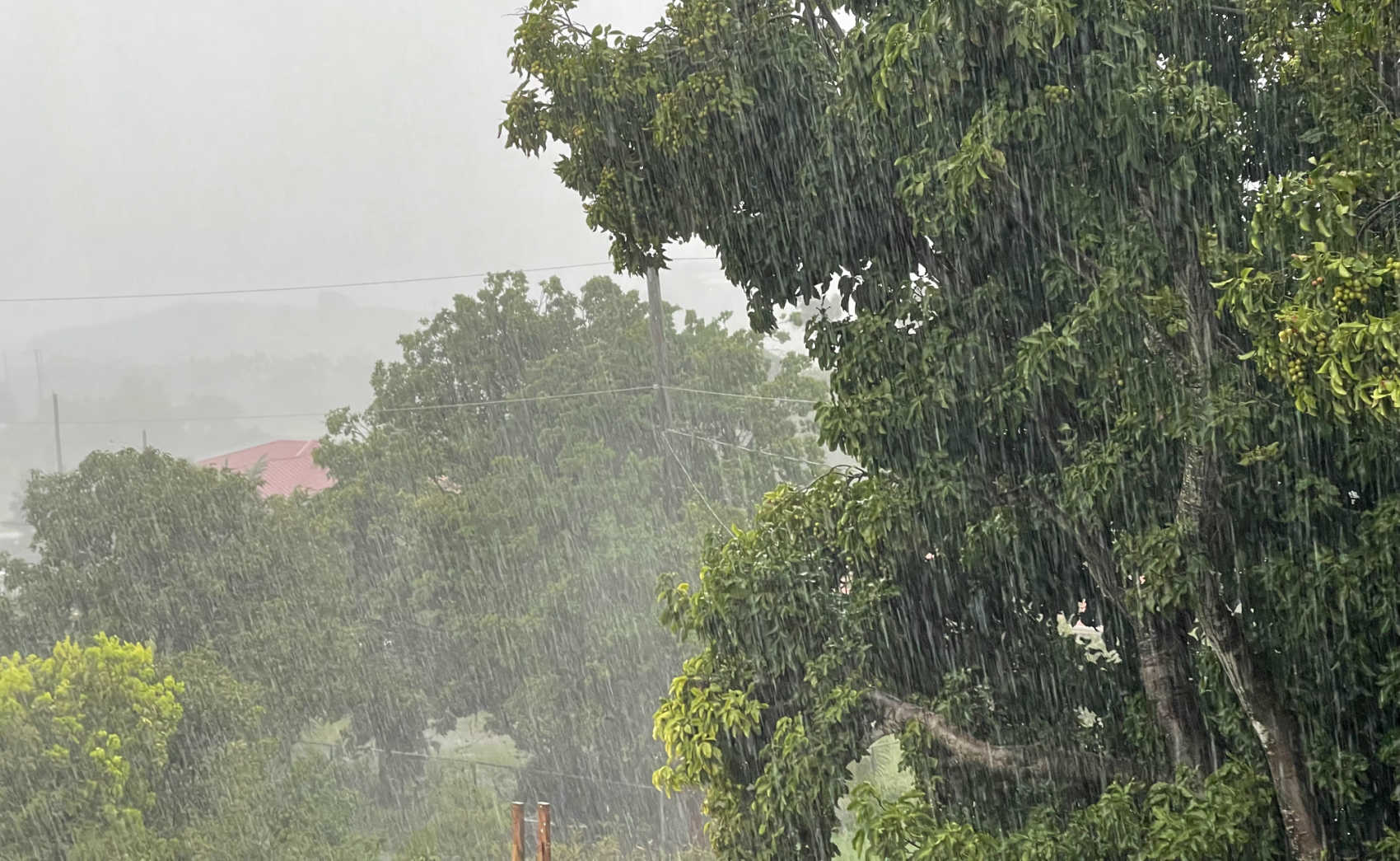 The National Weather Service (NWS) station based in San Juan delivered an urgent update at 11:00 AM AST on Thursday, detailing anticipated severe marine and rainfall conditions for Puerto Rico and the U.S. Virgin Islands.
Weather forecasts spotlight a surge of tropical moisture, propelled by favorable upper-level atmospheric dynamics, set to trigger showers and thunderstorms across the islands starting Friday and extending into early next week. These intensified tropical conditions are raising concerns over potential flooding in both territories, with officials suggesting a flash flood watch might be declared by tomorrow.
Meteorological data points to an approaching surface trough from the east, merging with moisture trails from the now-dissipated Tropical Cyclone Tammy situated well north. Concurrently, an evolving low-pressure system near Colombia's coast is expected to veer northeastward, channeling substantial moisture over the islands. This meteorological interplay is predicted to bring about heavy downpours commencing late Friday, with the situation worsening over the weekend.
Outlook
In the span from the upcoming Wednesday to Friday, the atmospheric saturation is predicted to remain elevated, enhancing the hazardous weather threat over Puerto Rico and the U.S. Virgin Islands. Projected cumulative rainfall could exceed 10-12 inches in southeast and eastern regions of Puerto Rico, while the U.S. Virgin Islands might see over 7 inches of rain by Wednesday.
Potential Risks and Impacts
Intensified Rainfall: Rainfall estimates from the present time until early Tuesday range between 3 to 8 inches. The wet spell may linger from Wednesday to Friday.
Where and When: Daily rainfall is forecasted across most areas, with the southeast, interior, and eastern sectors of Puerto Rico expected to endure the heaviest showers. Intense downpours are likely post-noon on Friday, prolonging through the weekend. Regions could see daily rain accumulations of 2 to 3 inches, predominantly between Saturday night and Sunday.
Implications: The deluge may cause widespread water accumulation, urban flooding, and roadway and stream overflows. There's a heightened risk of life-threatening flash floods and mudslides, particularly in southern to eastern Puerto Rico, with several rivers potentially overflowing.
Marine Unrest: The Atlantic waters off these islands might experience turbulent seas, with waves ranging from 7-10 feet. Wind speeds could escalate to 15 to 20 knots, and gusts may reach up to 30 knots. Small Craft and High Surf Advisories will be in effect for these regions.
Additional Weather-Induced Hazards: Thunderstorms and Wind Gusts: The islands may witness isolated to scattered thunderstorms, featuring frequent lightning and robust wind gusts.
Rip Currents and High Surf: Except for the southern coastal stretches, most areas are facing high rip current risks until Sunday. High surf conditions, with waves breaking at 10 feet or above, are anticipated along some northern coastal belts from Friday through the weekend, with several locales already reporting such wave heights.
Prolonged Heatwave Raises Health Concerns for Both Humans and Marine Ecosystems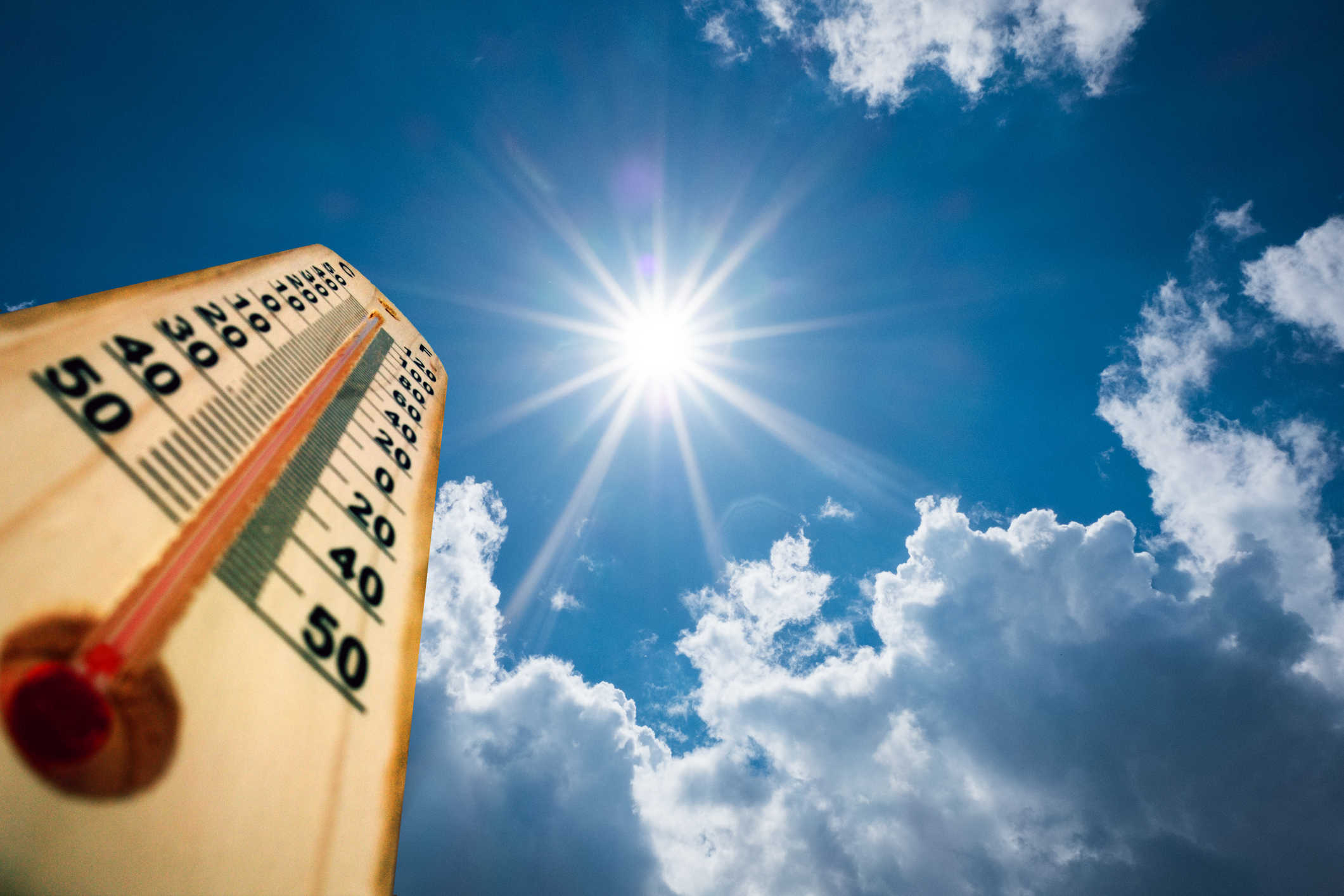 The VI Territorial Emergency Management Agency (VITEMA) has sounded the alarm about persistent elevated temperatures expected to dominate the region till October. Such sweltering conditions can trigger heat-related health complications, like heat exhaustion and heat strokes, for the territory's residents.
Recent data shared by VITEMA's Executive Director, Daryl Jaschen, during a Government House Press Briefing, revealed that St. Croix has shattered daily temperature records consecutively over the past twelve days. The gravity of the situation is further underscored by a heat advisory from the National Weather Service in Puerto Rico. As per Jaschen, this advisory is indicative of "an impending period of intensified heat, wherein the synergy of extreme temperatures and heightened humidity could result in potential heat ailments."
To combat these adverse conditions, the public is being urged to ramp up fluid intake and, when feasible, find solace in air-conditioned environments. Moreover, residents are counseled to minimize direct exposure to the sun and to make periodic rest intervals a routine, especially for those whose jobs demand outdoor presence.
Jaschen emphasizes the need for vigilance among supervisors, referencing guidelines set by the Occupational Safety and Health Administration (OSHA) to mitigate the risk of heat-induced illnesses for outdoor workers. "For anyone overseeing staff, it's crucial to safeguard their well-being," asserted Jaschen.
Furthermore, engaging in physically demanding tasks is best reserved for cooler periods, such as dawn or dusk. Jaschen also suggests that donning attire that's light-hued and not constricting can offer some relief.
The Caribbean Climate Outlook Forum's (CariCOF) Heat Prognosis for September 2023 to February 2024 identifies August and September as the peak heat months, with September slated to be exceptionally harsh. These scorching temperatures aren't just perilous for humans but have drastic implications for marine life too. The Caribbean Sea and Northern Atlantic have recorded unprecedented sea surface temperatures, instigating heat-induced distress to coral reefs throughout the Caribbean. This has precipitated a surge in coral bleaching, a phenomenon that jeopardizes the reefs. Notably, these reefs play a pivotal role in shielding several islands from the brunt of hurricane-induced sea surges and other challenging marine scenarios.
Derek Manzello, the Coral Reef Watch Coordinator for the National Oceanic and Atmospheric Administration (NOAA), offers some insight into the matter. He indicates that while corals have the capacity for recovery post mild bleaching events, protracted or intense heat distress elevates their mortality risk. Moreover, even those corals that manage to recover display diminished growth and reproductive capacities, with heightened susceptibility to diseases for up to four years post-recovery.
To summarize, the intense heat poses significant health threats, both to humans and marine organisms, with the hope of relief only in sight by next month.