Atlantic Weather Systems Intensify; Gulf of Mexico Preps for Potential Disturbances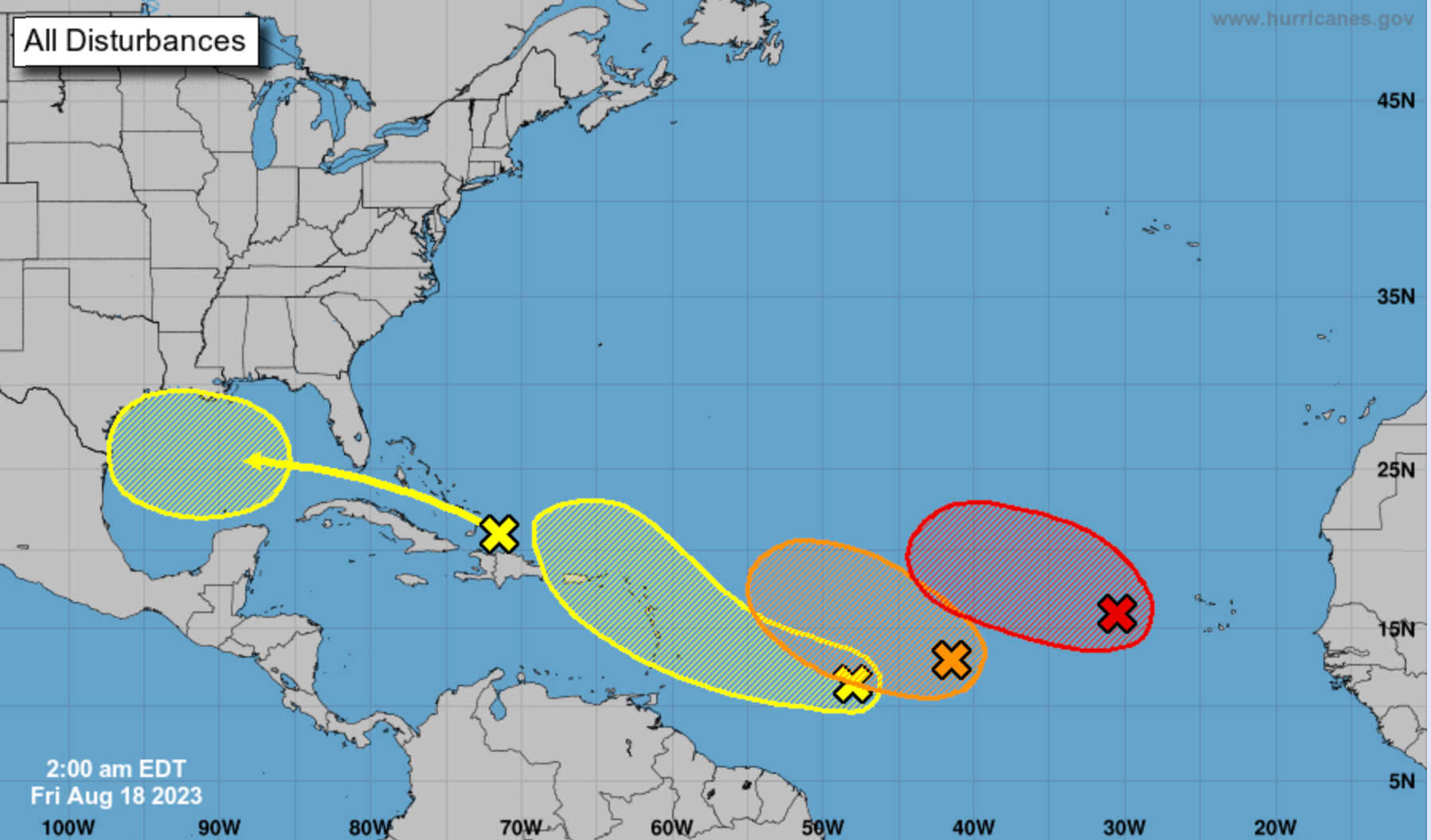 As the season advances, the Atlantic and Gulf of Mexico face heightened weather activity, with several systems emerging on the radar. The National Hurricane Center advises residents and officials in potentially affected areas, especially those in the Caribbean region, to stay updated on these weather developments.
Detailed Insights:
Eastern Tropical Atlantic – System AL98: An expansive low-pressure zone, situated several hundred miles to the west of the Cabo Verde Islands, is showing increased signs of coming together. The associated showers and storms appear to be consolidating, suggesting favorable conditions for a tropical depression formation in the days ahead. Current trajectories indicate a west-northwest to northwest movement at an approximate pace of 10 mph across the eastern tropical Atlantic. Notably, by the following week, climatic models hint at stronger upper-level winds, which may hinder its growth.
Likelihood of formation in 48 hours: Moderate at 50%.
Chance of formation over the next 7 days: Elevated at 70%.
Central Tropical Atlantic – System AL99: This elongated low-pressure trough, positioned more than a thousand miles west-southwest of the Cabo Verde Islands, is triggering sporadic showers and storms. The current climate suggests a slight edge for this system to evolve into a tropical depression soon. As for its movement, a west-northwestward trend ranging from 10 to 15 mph across the central tropical Atlantic is expected. Nonetheless, forthcoming upper-level winds may deter its continuous development.
Formation probability for both 48-hour and 7-day: Moderate at 40%.
Proximity of the Lesser Antilles: Another trough of low pressure, stationed a few hundred miles east-southeast of the Lesser Antilles, is hinting at possible development. Over the forthcoming weekend and into next week, there's a potential for some strengthening. It's projected to move predominantly in a west-northwest direction, clocking speeds of 10 to 15 mph, crossing the Lesser Antilles and entering the northeastern Caribbean region.
Potential for formation in 48 hours: Low at 10%.
7-day formation outlook: Minimal at 20%.
Western Front of the Gulf of Mexico: Stirrings north of Hispaniola have set the Gulf of Mexico on a cautious watch. Predictions point towards a broad low-pressure region establishing itself here by the early part of the next week. As it embarks on its westward course, this system may undergo slow evolution, aiming to touch the western fringe of the Gulf of Mexico by mid-week.
Probability of formation in 48 hours: Virtually 0%.
Chances over a week: Mild at 30%.
In light of these developments, it's paramount for residents and local officials in the identified regions to maintain vigilance. Staying updated and ensuring necessary preparations are in place can aid in effectively managing potential outcomes.
Potential Tropical Development on the Horizon: Caribbean Braces for Impact, with a Tropical Depression Anticipated Soon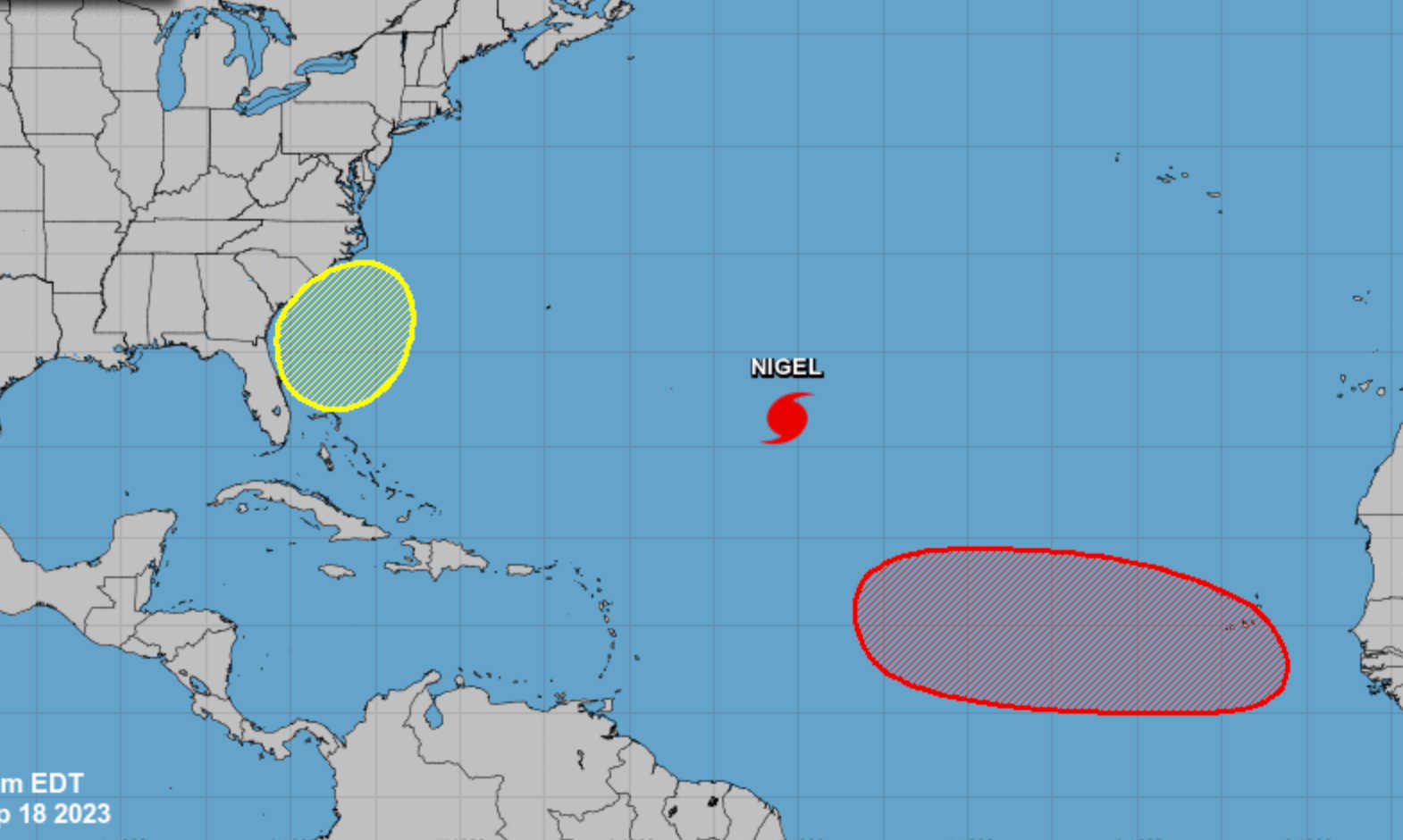 As the eyes of many remain on the National Hurricane Center (NHC) for its continuous updates on Tropical Storm Nigel, a growing concern emerges for a tropical wave predicted to originate from the west coast of Africa. With the forecast showing a robust 70% probability of evolving over the coming week, the system might bring repercussions to the Caribbean, journeying westward across the expansive eastern and central tropical Atlantic.
The NHC, with its vigilant surveillance, is currently assessing multiple meteorological patterns spanning the North Atlantic, Caribbean Sea, and the Gulf of Mexico. Although Tropical Storm Nigel is on the radar, its location over the central subtropical Atlantic indicates no pressing threats to either the U.S. mainland or the neighboring Caribbean territories.
Early indicators suggest that the tropical wave, predicted to roll off the African coast by midweek, carries a strong potential for development. Anticipated environmental conditions appear favorable for its gradual evolution, steering the wave towards metamorphosing into a tropical depression by the week's end or soon after. Preliminary estimates by the NHC postulate a near-negligible chance of formation in the immediate 48-hour frame but elevate that probability to a noteworthy 70% in the week ahead. Given its current trajectory, Caribbean territories should maintain heightened alertness for any ensuing impacts.
Parallel to this, the NHC's gaze is fixed on an anticipated non-tropical low-pressure zone, set to appear near the U.S. southeastern coastline within the week. There's a potential for this system to adopt some subtropical traits over the weekend, contingent on its offshore activities. Presently, the odds for its formation remain modest: almost nil for the upcoming 48 hours but rising to a 30% chance within the week.
As the annual hurricane season unfolds in all its might, it's imperative for dwellers of the Caribbean and those residing along the southeastern coast of the U.S. to stay abreast of meteorological updates. Establishing emergency preparedness kits is a prudent move. The NHC assures consistent monitoring of these meteorological patterns and pledges timely updates as fresh data surfaces.
Impacts of Hurricane Lee Reverberate on USVI and PR's Coastal Regions Until Mid-Week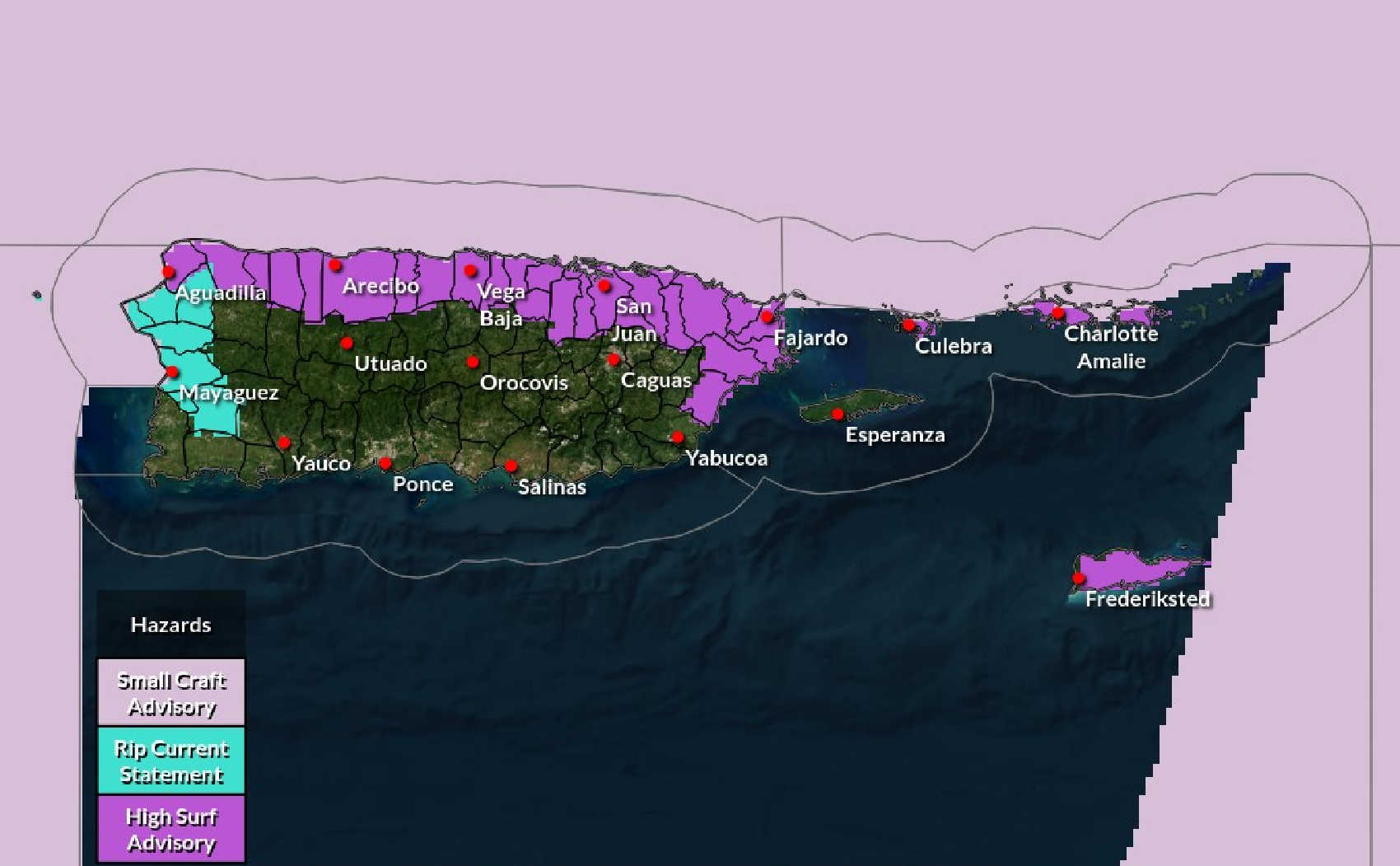 While the U.S. Virgin Islands and Puerto Rico are spared the direct wrath of Hurricane Lee, the storm's indirect repercussions are anticipated to challenge both marine and coastal conditions until at least the week's midpoint. Presently, Hurricane Lee is pinpointed at a latitude of 22.1 N and longitude 61.7 W.
In light of the impending conditions, authorities have rolled out Small Craft Advisories encompassing the Atlantic Waters, the Anegada Passage, as well as the proximate waters off the northern stretch of the Virgin Islands. With the prevailing circumstances, seafarers are encouraged to tread cautiously across these waters, with tumultuous conditions slated to continue.
Those who cherish beach outings and the general populace dwelling in these zones should stay acutely aware of the escalated risk tied to rip currents. Not to mention, high surf warnings are in force, particularly targeting the beaches facing the northern and eastern directions. Waves surging to heights ranging from 10 to 15 feet are predicted for these specific locales, thereby amplifying risks tied to aquatic endeavors like swimming and boating.
Beyond the towering waves, there is a distinct alert regarding rip currents propelled by waves that reach between 6 and 9 feet in height. Such circumstances spell peril especially for those unaccustomed to swimming, and even seasoned swimmers might find themselves in challenging spots if caught unprepared.
USVI and Leeward Islands Brace for Dangerous Surf as Cat 5 Hurricane Lee Tracks North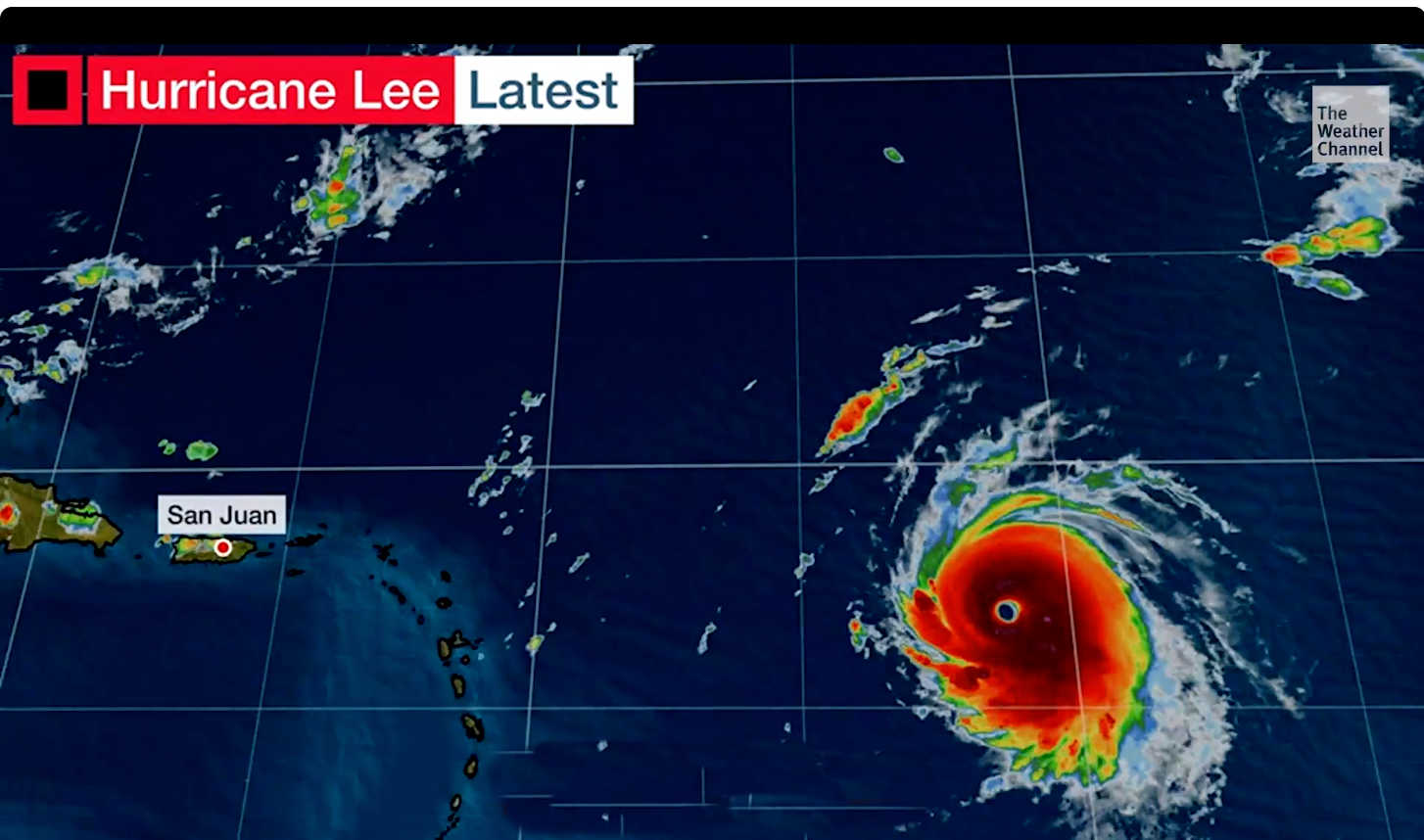 In the midst of the Atlantic, the fierce Category 5 Hurricane Lee is generating winds of almost 165 mph, prompting urgent advisories regarding life-endangering surf and rip currents expected to hit the northern Leeward Islands by this evening.
The menace of these hazardous conditions is forecasted to reach the U.S. Virgin Islands, and subsequently spread to regions including Puerto Rico, Hispaniola, the Turks and Caicos, the Bahamas, and even as far as Bermuda during the weekend. The East Coast of the U.S. is also on high alert for potential treacherous surf conditions by Sunday.
Although predictions indicate that Hurricane Lee's core will bypass the Leeward Islands from a distance to the north, the surge it produces cannot be underestimated. Forecasts suggest sea levels could escalate by 8 to 12 feet, especially in the Atlantic side and eastern pockets of these islands. As the hurricane intensifies and edges closer to the northeastern Caribbean region, even more formidable sea surges are on the horizon. The byproducts of these swells, which include dangerous rip currents and towering surf, are predicted to predominantly affect the northern and eastern coastlines of Puerto Rico and the U.S. Virgin Islands. The situation could also escalate to coastal flooding and increased erosion from Sunday evening into the early hours of Monday.
There is still some ambiguity regarding potential rainfall and any associated wind damage. But there's consensus in predictions that Lee will predominantly venture north-northeast, away from the island territories. Island residents are strongly advised to stay abreast with the latest updates on this evolving situation.
Recent insights from the Air Force Reserve's Hurricane Hunter aircraft unveiled that Lee has achieved a category 5 rating on the Saffir-Simpson Hurricane Wind Scale, with prospects of further intensification in the coming hours. The hurricane's current coordinates place it near latitude 17.8 North and longitude 53.5 West, as it journeys west-northwest at a pace of roughly 14 mph. This path is predicted to maintain its course into the forthcoming week, though with a notable reduction in its speed.
In terms of wind outreach, Hurricane Lee's potent force extends about 45 miles from its nucleus, while its tropical storm winds have a radius of around 140 miles. The recorded minimum central atmospheric pressure stands at 926 mb (27.35 inches).
As for its potential threat to the U.S. East Coast, Atlantic Canada, or Bermuda in the upcoming week, authorities maintain that it's premature for conclusive forecasts. The hurricane's anticipated deceleration over the southwestern Atlantic complicates predictions. Nonetheless, coastal residents and administrative bodies on the U.S. East Coast are encouraged to remain vigilant and frequently check updates concerning Hurricane Lee's progress.