---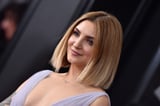 Julia Michaels meant it when she said she didn't want to shave her armpits ever again. The singer and prolific songwriter recently released the mod music video for her latest single, "Lie Like This," and shortly thereafter, fans and commenters began applauding Michaels for her visible underarm hair, and thereby, her normalization of body hair in general.
"If it's not supposed to be there, why do we grow it?"
For context, Michaels tweeted that she was going to stop shaving her armpits back in May: "Honestly, I'm not shaving my armpits ever again. I don't know why I ever did before. Social norms can eat an eggplant." (By the way, "social norms can eat an eggplant" is our new favorite expression.) The refreshing declaration received several supportive replies, leading to various exchanges with followers. In one exchange, Michaels noted, "If it's not supposed to be there, why do we grow it?"
I do acknowledge the irony in praising Michaels for normalizing underarm hair, while also writing about it and, well, purposefully calling it out. If it's so normal, then why even comment on it? The truth, however, is that though Michaels is among many young stars and pop performers who have chosen to proudly display their underarm hair, including Halsey and Paris Jackson, it does still feel like a rarity, particularly in such a carefully curated space as a music video.
Here's hoping that one day that underarm hair will be nothing worth noting on anyone – a day I do think is near – but in the meantime, I'll continue offering praise where it's due.
Print